As you're painfully aware, nothing about 2020 onwards has been normal. But it hasn't been all bad, either. Despite a pandemic, people are still thinking about ways to improve themselves and the planet so that the new "normal" will be healthier, happier, and more sustainable. One of the ways they're achieving this goal is by becoming more conscious shoppers — starting with choosing products that come in more environmentally friendly packaging. What does that look like? It can be as simple as a wash-off label.

North Americans produce 3.1 million tons of PET each year, according to the PET Resin Association (PETRA). If properly recycled, those products (i.e., water bottles, clam shell containers, shampoo bottles) can be broken down to create new items, thus extending the plastic's life cycle and perpetuating the circular economy. It's the good old "reduce, reuse, recycle" saying in action. Overall, the process uses fewer carbon emissions than if you were to create materials from virgin plastics, so brands and consumers alike can feel good knowing that they're making decisions that have a direct impact on the environment.
Once you toss out your used PET items to materials recovery facilities, they're sorted, washed, and then processed. The PET is broken down into flakes before it becomes pelletized and melted into new materials. The clam shell container that once held your blueberries can go on to become a plastic water bottle, thus reducing carbon emissions by eliminating the need to create more virgin plastics.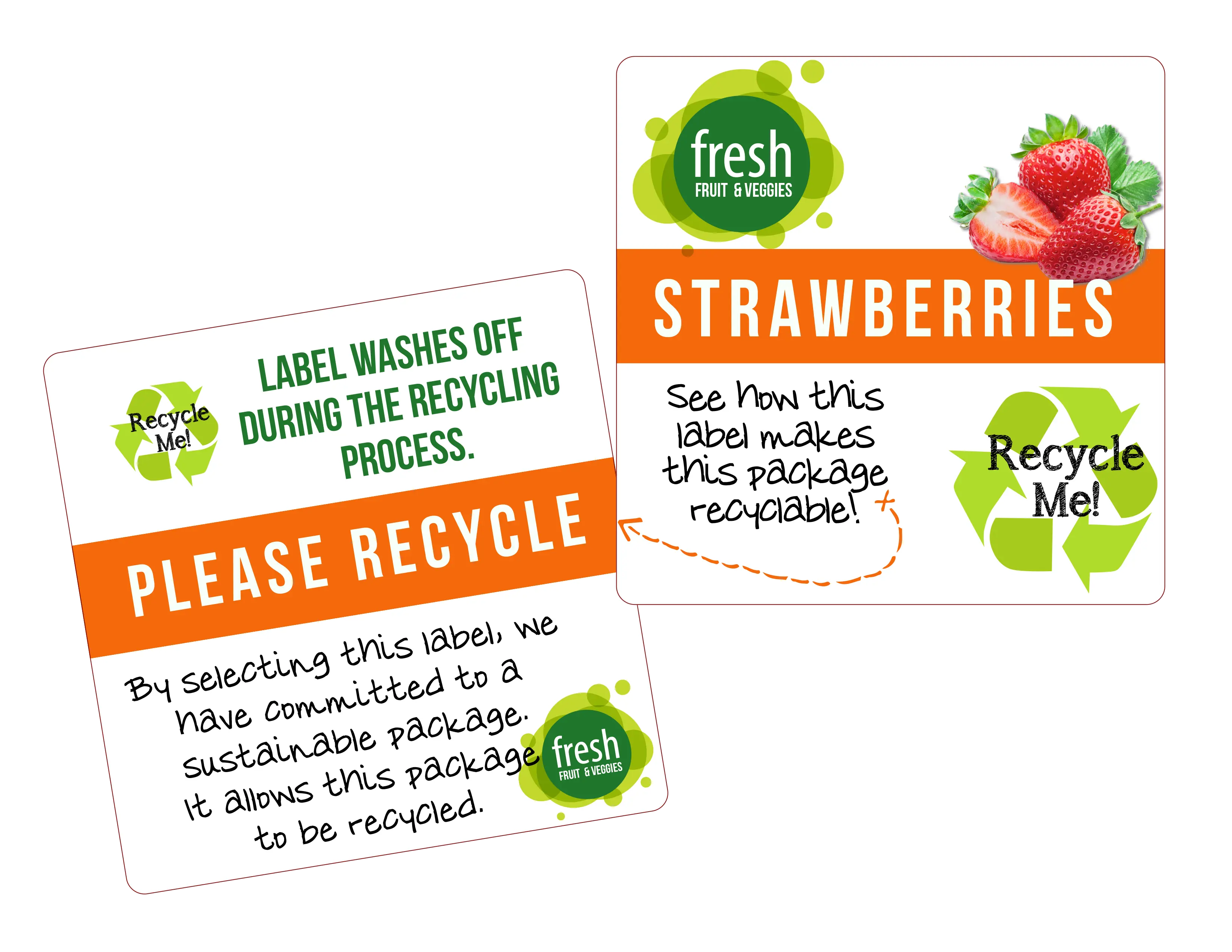 Because PET packaging is lauded for its clarity and food-grade safe CO2 barrier protection, the recycled PET flakes should be clean and clear. However, sometimes, standard labels remain connected to the plastic and contaminate the recycling stream, causing discoloration and lower-quality PET flakes that cannot always be reused and can wind up in landfills. That's where wash-off labels come into play.
At Fortis Solutions, our wash-off labels are created with consumer and planetary health in mind. While standard pressure-sensitive labels can contaminate the PET recyclability stream with adhesives and inks, Fortis Solutions Group's RENEW™ pressure-sensitive labels separate cleanly during the water bath stage at the recycler by using an innovative water-based adhesive that's compliant with the Association of Plastic Recyclers' (APR) highest standards. Brands interested in further perpetuating the circular economy can also feel good knowing our labels are created with a 90% post-consumer recycled content PET liner.
There's no need to sacrifice style to be sustainable, either. You can still create eye-catching graphics that will make your brand stand out on store shelves, be they virtual or in a brick-and-mortar store. Our labels are available in clear and white film face materials, all of which are customizable to fit your brand's needs and aesthetic.
Wash-off labels also give brands an opportunity to market themselves as change-makers. A Futerra survey conducted in 2018 found that 88% of respondents wanted brands to help them live more environmentally friendly and ethical lifestyles. Research from Nielsen suggests a growing number of shoppers — 38% as of 2017 — are willing to pay more for products that come in sustainable packages, too. That percentage is likely to rise as more Millennials choose brands and products that more closely align with their personal values.
Still, in today's fast-paced society, it might be too much to expect that consumers are going to fully vet products and companies before making their purchases in stores and online. Brands can eliminate the guesswork by advertising their sustainable practices directly on their products with wash-off How2Recycle labels.
More than just informative, these labels make a statement that brands are committed to doing their part to reduce carbon emissions, reduce landfill waste, limit the amount of virgin plastics flooding the market, and perpetuate the circular economy.
Renew Wash Off labels and How2Recycle make it easy for consumers to realize a circular plastic economy.