MEDIA CONTACT:
John Wynne, Fortis Solutions Group   |   (757) 340-8893   |   jwynne@fortissolutionsgroup.com
Fortis Solutions Group Employees Show Up Strong for Flint
Wixom, MI (January, 2016) – With the water crisis in Flint, MI growing daily, employees of the Fortis Solutions Group Wixom, MI plant worked together to support their Flint, MI neighbors during a water lead contamination emergency that captured the attention of the nation.
Rene Rymes, a shipping department employee was talking with a co-worker about the growing catastrophe and learned that several Fortis employees had personal connections to Flint. Known for her ability to bring people together to get things done, Rene shared the idea that Fortis employees could work together and help with the relief effort. Soon, employees were donating both money and cases of clean drinking water in support of Flint and the company provided a 100% match of those collected funds.
Within a couple of weeks, a total of nearly 175 cases of water were collected or purchased, loaded onto pallets and shipped to Flint.
Company President & CEO John O. Wynne, Jr. congratulated the team effort and applauded a job well done.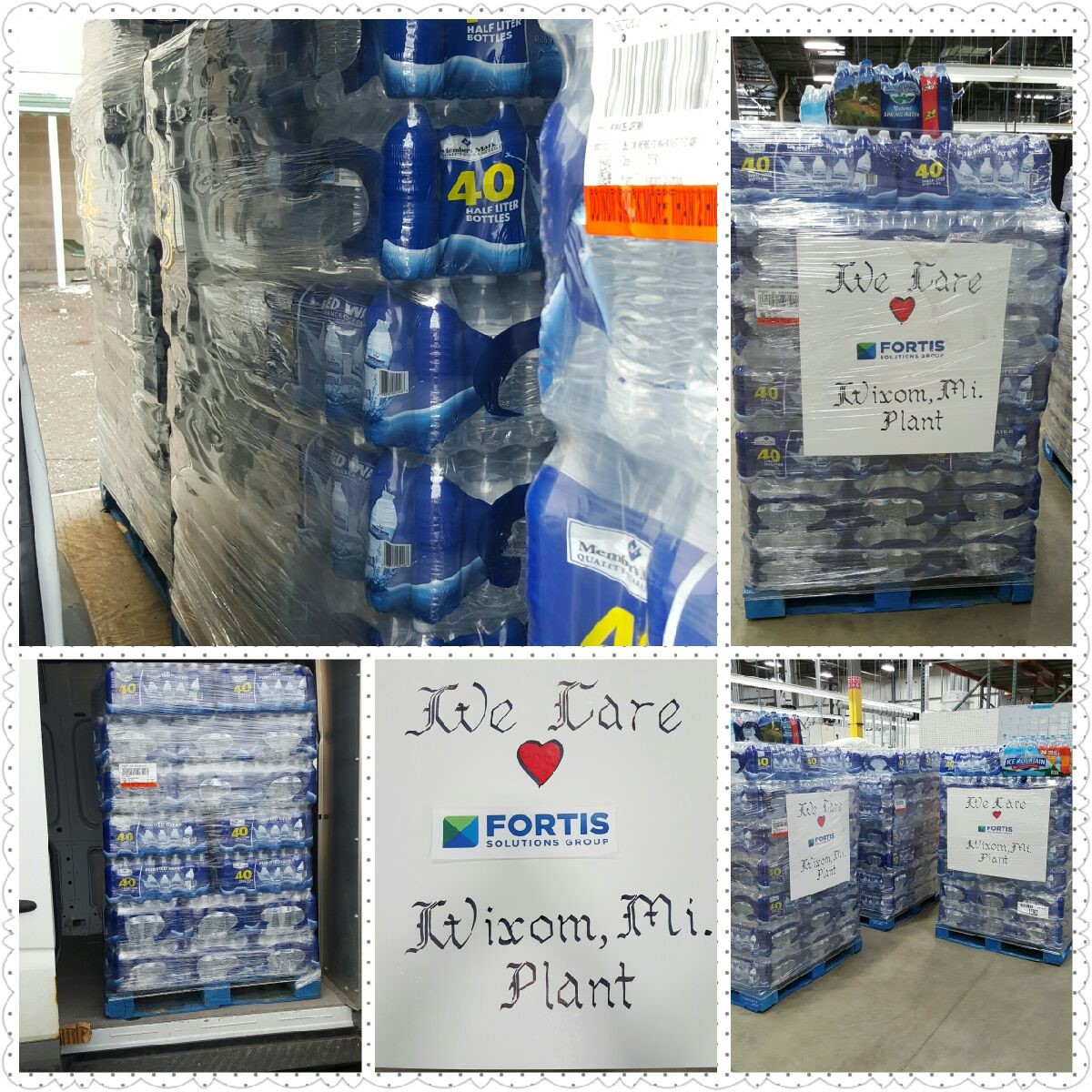 About Fortis Solutions Group
Fortis Solutions Group has a differentiated approach to label and flexible packaging manufacturing, with highest quality standards, color management technology, industry leading turn-around times and team-based innovations that give customers a powerful advantage in the marketplace. The company delivers a breadth of pressure-sensitive label solutions utilizing outstanding flexographic and digital printing capability and industry expertise. Additional product offerings include extended booklet printing, variable data printing, multi-ply coupon printing and flexible packaging printing.
Headquartered in Virginia Beach, VA., the company has additional manufacturing and sales offices in Cincinnati, OH, Detroit, MI, Kansas City, MO, and Memphis, TN. For more information, please visit the company's website at www.fortissolutionsgroup.com.